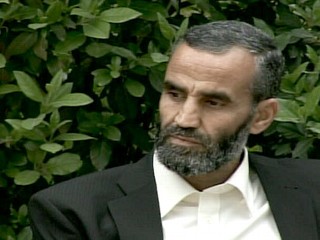 A former prisoner held at Guantanamo Bay says he was never interrogated about the reason the US said they'd arrested him for — even after seven years in captivity.
He also provided a graphic account of new elements of what may be considered "ad-lib" torture — guards inappropriately using hypodermic needles and IV tubes intended for forced feeding during hunger strikes.
He further said he was kept awake for 16 days straight — which was often done by splashing detainees eyes with cold water when they nodded off in their cell under bright lights. The account was published by ABC News.
The former detainee, Lakhdar Boumediene, is now in France with his family. He was never charged. Was it torture? an ABC News reporter asked.
"I don't think. I'm sure," he replied.
"Boumediene described being pulled up from under his arms while sitting in a chair with his legs shackled, stretching him," an ABC News interview account Monday reported. "He said that he was forced to run with the camp's guards and if he could not keep up, he was dragged, bloody and bruised.
"He described what he called the 'games' the guards would play after he began a hunger strike, putting his food IV up his nose and poking the hypodermic needle in the wrong part of his arm.
"You think that's not torture?" he quipped. "What's this? What can you call this? Torture or what?" he said, indicating the scars he bears from tight shackles. 'I'm an animal? I'm not a human?'"
Boumediene was first captured and accused of being part of a plot to bomb the US embassy in Sarajevo. But charges against him were dropped by the Bosnian government. Subsequently, however, they turned him over to the US military.
The charges were dropped, and the Bosnian courts ordered him and five others freed. But under pressure from the Bush administration, the Bosnian government handed him over to the U.S. military. He was shackled and transported by military plane to Cuba.
Two weeks later, in his State of the Union address, President Bush touted the arrests in Bosnia to show early progress in the war on terror.

"Our soldiers, working with the Bosnian government, seized terrorists who were plotting to bomb our embassy," Bush said in his address. To this day, officials of the Bush administration have provided no credible evidence to back up that accusation.

Boumediene said the interrogations began within one week of his arrival at the facility in Cuba. But he thought that his cooperation, and trust in the United States, would serve him well and quicken his release.

"I thought America, the big country, they have CIA, FBI. Maybe one week, two weeks, they know I am innocent. I can go back to my home, to my home," he said.

But instead, Boumediene said he endured harsh treatment for more than seven years.
The full interview can be read here.
This video is from ABC's Good Morning America, broadcast June 8, 2009.