This is a little off the beaten track for me, but it is a very real example of how taxpayer money is being
spent
wasted on bailouts for failed executives.
It's particularly important to publicize this sort of wretched excess, known as the privatization of profits and socialization of loss, as we approach the opening of the 111th Congress and the battle for affordable and guaranteed healthcare for all Americans goes into high gear.
As sure as night follows day, we will hear some many say, the United States can't afford to provide healthcare to all our citizens. When this deceit gets going, please remember that a huge amount of taxpayer money is raining on people like Peter Kraus--no questions asked.
This is 720 Park Avenue in New York City. It's one of the most expensive buildings in Manhattan. Peter Kraus and his wife Jill, just paid $37 million for an apartment in this building. This year, Peter Kraus received a payout of $25 million dollars for working at Merrill Lynch for three months.
You can't make this stuff up.
Merrill Lynch received TARP funds--taxpayer money. Lots of our money has fallen into the hands of executives who destroyed and looted their companies and are walking away with huge payouts. Peter Kraus is one such executive.
And he should be publically shamed.
In New York like most localities, real estate sales are public records. A local New York Real Estate paper, The Real Deal searches for high profile sales in in doing so, the newspaper often turns up examples of staggering greed and excess. This transaction is a further startling indictment of our times.
AllianceBernstein CEO pays $37M for pad at 720 Park Avenue

Investment advisor Carl Spielvogel and his wife Barbaralee Diamonstein-Spielvogel sold their cooperative apartment at 720 Park Avenue, at the corner of 70th Street, for $36.63 million, nearly twice what they paid for it two years ago.

The sale of the seventh-floor unit closed December 18, according to property records posted Friday.

The buyer was identified as Jill Kraus, wife of Peter Kraus, a former executive vice president at Merrill Lynch who reportedly received a $25 million bonus after working at the firm for three months this year. However, only her name was listed on the property report. He was hired as chairman and CEO of AllianceBernstein on December 19. A Merrill Lynch spokeswoman would not comment on his pay package.
This story is so egregious and revolting that even the Wall Street Journal felt morally compelled to weigh in.
Merrill Lynch's Peter Kraus Collects $25 Million, Then Resigns

Now, former Goldmanite Peter Kraus is getting his $25 million bonus, according to people familiar with the situation, though he has been at Merrill only three months. Kraus left Merrill Friday, shortly after after his rich exit package was triggered by the Merrill sale. In a year when some bankers are being paid with junk, Kraus's exit payment is a stunner that represents to about 0.1% of Bank of America's $25 billion capital injection from the U.S. government.
So where's our taxpayer money going? Well Mr. Paulson says it's fungible, so it's hard to trace.
We've been told that banks will not reveal what they're doing with taxpayer money. Money is "fungible", so how can we expect them to fess up? Do you blame thieves for not being truthful ?
Dianne Feinstein is miffed. "At present, we don't know whether these companies are using these funds to fly on private jets, attend lavish conferences or lobby Congress," Feinstein said in a statement. Let me help unmiff you, Senator Feinstein and others.
Here are some details about where our money is going.
Let's take a tour of the Kraus residence on Park Avenue.
This is the floorplan [UPDATED] of the apartment that Jill Kraus (ahem) purchased for the family.
This looks like the living room.
And this must be one of the dining rooms.
The entrance foyer.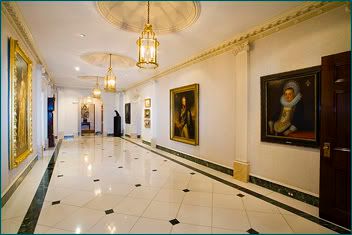 So this guy received "fungible" taxpayer money, now you know how some of it's being spent.
Original here